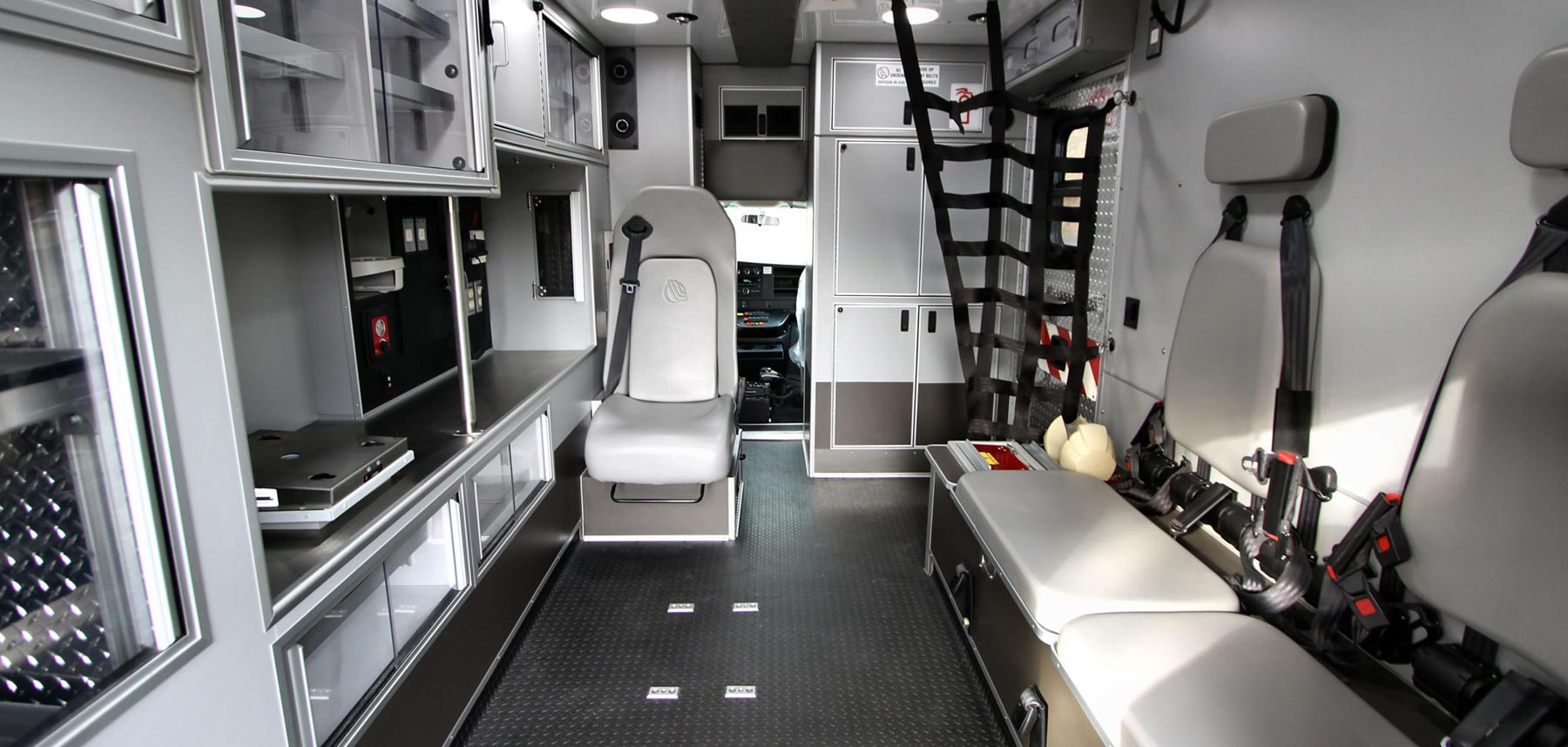 Ambulance Upfitting
When it comes to upfitting your ambulance with the latest and greatest upgrades and accessories. SIV Ambulances has everything you need.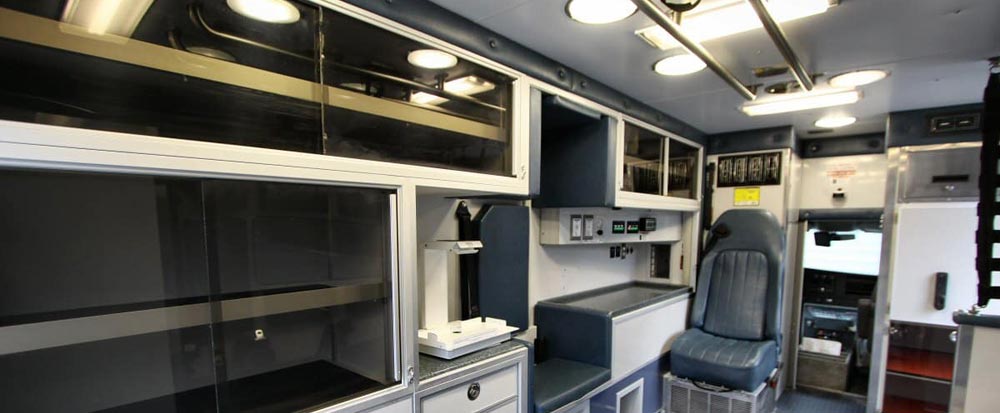 SIV Ambulances provides extensive options for upfitting your ambulance. If your ambulance needs an electrical upgrade, upgrade to LED lighting, or any kind of accessory from Inverters to Air Horn Systems, we are here to get it done. Our team of experienced technicians have the skill that many don't possess to do top-quality upgrades on the sensitive systems in your ambulance. We pride ourselves on the quality of the work that we do.
Ambulance Electrical
SIV Ambulances offers complete ambulance electrical system customization and upgrades ranging from but not limited to:
Main Circuit boards
Master On/Off Switches from Manual to Solid State Automatic Timed
Switches
Solenoids
Relays
Switch panels
Rocker switches
Breakers
Custom Made Wiring Harnesses
Custom Made heavy battery cable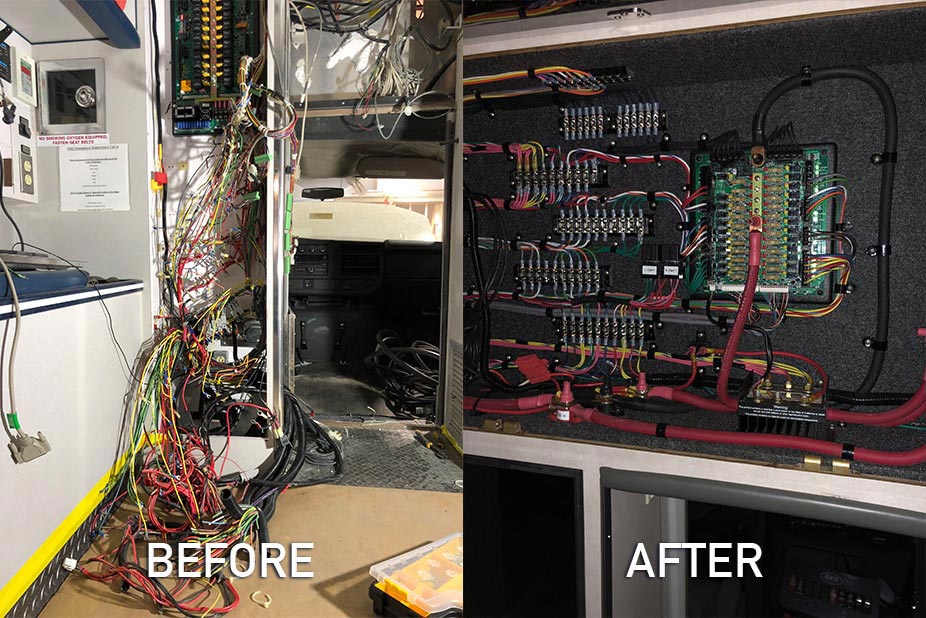 Lighting Upgrades
SIV Ambulances can modify your existing lighting configuration on your ambulance to something new. If you have a lightbar on the front, we can convert that to 5 or even 7 Whelen 900 series, or Tecniq K90s on the front of the ambulance module. We can add any kind of additional lighting anywhere on your ambulance.
Lightbars Flashers
Scene lights and load lights
Intersection lights
Interior Dome lights
Interior Action area lighting
Cabin lighting
Compartment lighting
Stepwell lighting
Marker lights
Underbody Lighting
SIV Ambulances can modify your existing lighting configuration on your ambulance to something new. If you have a lightbar on the front, we can convert that to 5 or even 7 Whelen 900 series, or Tecniq K90s on the front of the ambulance module. We can add any kind of additional lighting anywhere on your ambulance.
We will ensure your emergency vehicle is upfitted with the most up-to-date, modern lighting to allow your ambulance to be visible while responding lights and sirens to a motor vehicle accident or emergency. All lighting is KKK Spec compliant.
Accessories
We have a wide range of accessories that we can add to almost any vehicle:
Vanner or Xantrax Inverters
Opticom
RX Mobile Fridge
On Spot Tire Chains
Air Horn Systems
Rear View and 360 degree camera systems
Shore lines and Kussmaul Auto Ejects
Siren Controllers
Siren Speakers
Man Saver Nets
Laptop Mounts
Narcotic Safes
Zico Main O2 Lift
Zico Slide out step
Door handles and hardware
Door shocks and cabinet shocks
Digital Clocks
Remote Oxygen Monitoring systems
Suction Systems
Back Up Alarm
Battery Chargers
Traffic Advisors
Wig Wags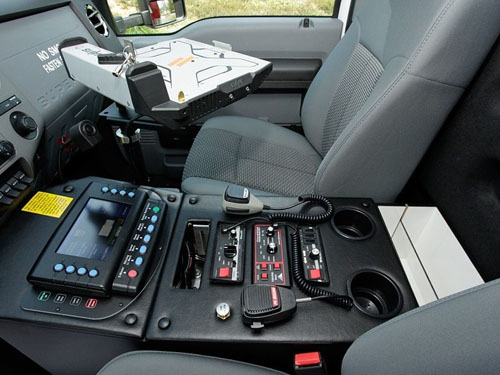 Custom Center Consoles
We can custom make any kind of center console that you can dream up. Is your center console missing needed slots for documents or folders, or you need to fit additional radios or siren heads? Do you suffer with cup holders that don't really hold the cup in place? We can design a center console that works for you. We can fabricate your center console from either aluminum or wood. Finish options include commercial grade vinyl wrap,bedliner, or upholstery carpeting depending on your preferences.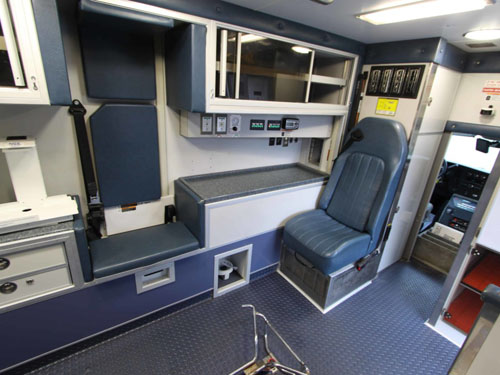 Custom Cabinetry
We can make any kind cabinet you choose or even redesign your cabinetry in your ambulance and install a CPR Seat. Or we can get rid of your squad bench and install 2 captains chairs.
Counter tops are made by us in house from either Laminate finish or Corian solid surface. Are the cabinet windows in your ambulance cracked or scratched to the point that you can't see clearly what is inside the cabinet? We make our own Lexan Polycarbonate glass for sliding cabinet windows. We'll make each piece individually, cut to the same exact spec as the original to fit the window frame and we offer several different tints from clear, bronze, and gray.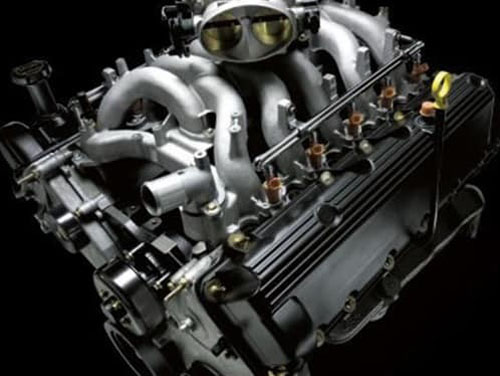 Radio Installation
Proper communication is critical for EMS staff. Information must be able to be relayed well in order to dispatch the correct response team. Emergency vehicles must be in constant communication with medical teams to ensure the patient receives the proper care when they arrive. For this reason, having the right radio system installed is an absolute necessity. We can install Motorola, ICOM, Kenwood or any other major manufacturer.
Installation of Cot Retention Systems
Stryker Medical: offers a complete line of cot retention systems specially designed for ambulances. Stryker Power-Load, Stryker Performance-Load, and Stryker Floor or Wall Mounts. We can install a whole new system or replace your existing one. One of the challenges in converting from a manual floor or wall mount system to a Power Load system is that the floor of the ambulance needs to be modified in order to accept the power load system, sometimes requiring modification to the ambulance floor frame structure. Our team of skilled technicians, along with the metal fabrication department, can handle any such conversions following Stryker or Ferno strict installation standards and ambulance KKK Spec safety standards.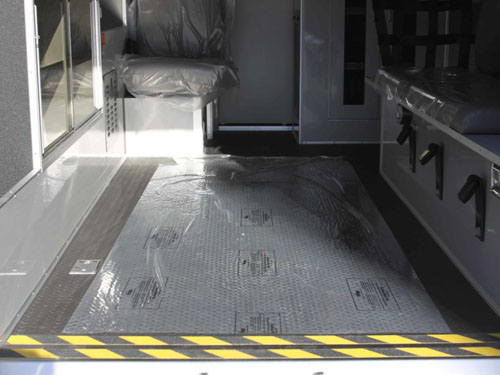 Flooring Upgrades
The flooring of any ambulance takes a beating, more so than most other vehicles. Don't get caught with inferior quality flooring. Many of our competitors, especially when doing a remount, use generic flooring purchased at a big box store or a local flooring supplier meant to be installed for homes and commercial buildings and not ambulance vehicles. They use inferior household glue which is not designed to be used in emergency vehicles. SIV Ambulances only uses Lonseal Brand flooring, specifically designed for emergency vehicles by providing long lasting durability, anti slip properties, sound debtening, and anti-microbial resistance which makes it the preferred choice for emergency vehicles across the globe. We install Lonseal flooring using Lonseal Epoxy Glue which was formulated to be used in emergency vehicles.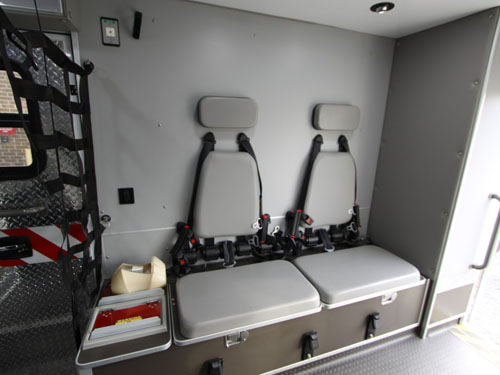 Upholstery
From complete color change overs to small color match repairs, SIV Ambulances can repair or replace any vinyl upholstery in your ambulance from squad bench bases, back rests, arm rests, vertical pads, and any trim pieces. We provide most upholstery work in house and have access to a large selection of marine and commercial grade vinyl used in ambulances. As a dealer for both WISE Seating and AVS Seating, we provide new or replacement parts for captains chair and attendant chairs and any type of seamless thermo-vacuum formed vinyl upholstery for your ambulance. Our interior and upfitting packages can be completely customized to your needs. From small jobs to complete overhauls–we will handle them all with precision and ease. Not only will we keep your ideas in mind, we will work with your budget constraints to help you control costs. We can outfit your entire fleet, from a single ambulance to an entire group. Give us a call to speak with a member of our team. We're happy to discuss concerns you may have and we're here to answer any questions. Contact the ambulance upfitting department at SIV Ambulances to discuss your upfitting needs today.